Technical Solutions Intercom
Our intercoms are individually configured to be accessible. They can be set up as a combination doorbell and intercom, and even be used to operate electric doors or door lock release systems.
VIDEO INTERCOM - K350 SERIES
The echnical Solutions K350 Hands Free & Switch Operated Colour Video Intercom can be individually configured to be accessible for people with disabilities. It allows the user to identify and communicate with the visitor before deciding whether to allow entry. Multiple monitor stations can be installed in various rooms while one or two doors can be monitored. Pressing the Monitor button (or a suitable external switch) will initiate hands free communication with the visitor. When multiple inside stations are installed, audio only hands free calls can be made from room to room.
Remote switch access to the 'talk' function as well as various door control options are also available
The basic kit No.1 includes:
1x inside monitor station and
1x Surface mount door station.INT-DVICE4000:
Price $638.00 (GST inc.)
(PLUS INSTALLATION)
Extra Inside Station; INT-DVICE4010
Price $396.00 (GST inc.)
Extra Door Stations also available.
Remember that we can supply

appropriate switches
See also, Our
Wireless Baby Monitor & Intercom
Fully Hands-free & Switch Operated
Audio Only
Hands-Free
These intercoms are specifically designed for use by people with disabilities, especially those with limited movement.  A visitor must press to ring the bell and talk while the inside intercom stations can be used
Hands-Free
!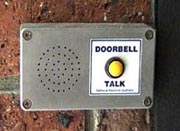 Multiple intercom stations can be used for communication between different rooms - for example, stations could be set up in the bedroom, lounge, kitchen and carers sleep-over room. As well as external doorbell stations outside the front and back doors. Up to two doors can be controlled from any of the internal stations.
For more details, print this information sheet. And please contact Technical Solutions to discuss your requirements.
INTERCOM/MONITOR -
Multi Station System
For Supported Accommodation
Group Homes
This can be set up as a nurse call system - Use any of our huge range of accessible switches to call for help then take advantage of Hands-Free communication.
Monitor Stations can have automatic 'noise detection' that will activate the monitor when noise in the room exceeds a acceptable level. Many Options Available, please contact us to discuss your requirements.
For more details, download this information sheet:
Call/Monitor/Intercom for Supported Accommodation