Info: Your browser does not accept cookies. To put products into your cart and purchase them you need to enable cookies.

Scanning Bed Controller
Scanning Bed Controller
Part No :
SBC
Price :
$790.00 (including 0 % tax)
---
This device developed by Technical Solutions gives people with extremely limited movement full control over an electric bed.
The Scanning Bed Controller (SBC) uses a specially designed scanning sequence to operate all bed movements with any single switch.
Use in stand alone switch scanning mode or with infra red via your ECU
The Scanning sequence efficiently guides a user through a menu which selects the part of the bed to be moved, and then offers a choice of up or down.
If the movement of the bed pulls the user away from the control switch, the motors are instantly stopped.
Colour coded lamps ensure the controller can easily be used in the dark or at a distance.
All lamps automatically switch off when the SBC is not being used.
The system will even operate a massage motor!
Environmental Control systems can easily be configured to operate with the SBC.
Step speed can be adjusted over a very wide range.
The SBC is a small box that can easily be positioned to ensure good visibility.
Mounting and positioning
When the Scanning Bed Controller is being controlled remotely via infrared, it needs to be positioned where it can receive IR signals line of sight from the ECU transmitter. It could be positioned on a bedside table, or attached to the top of the bed head with double sided tape, hook and loop or the RAMB201-MOBT mount, below.
When the Scanning Bed Controller is being controlled directly by switch scanning, it needs to be positioned where the user can see the face of the unit. We have a range of mounting arms that may suit, including the RAMB201-MOBT mount, below. This mount holds the Bed Controller securely and comes complete with a clamp to clamp the arm onto a bed rail.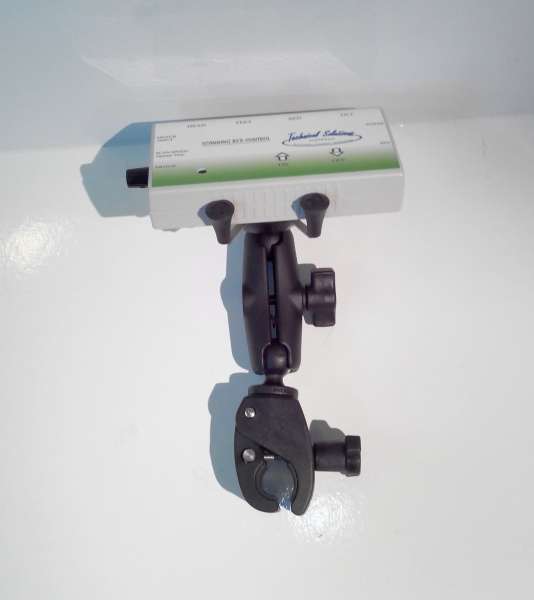 ---